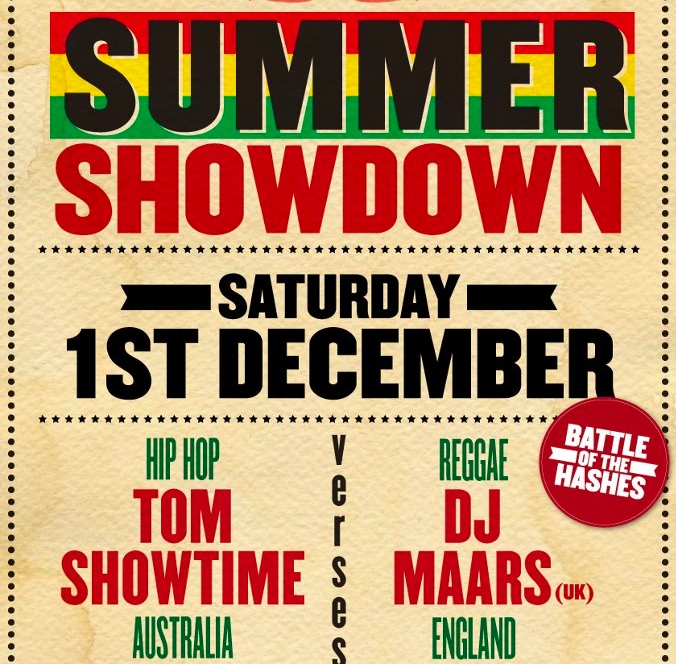 Tom Showtime-Spaces & Places ft. Gift Of Gab, Lotek & Ash.One (Maars Reggae Re-Rub)
Roll Up, Roll Up!!
Here's my reggaefied remix of the "Jam Thief" single Spaces & Places, by the legendary
Tom Showtime
, feat. Gift Of Gab, Lotek and Ash.One.
Check the man himself:
Tom Showtime
Check Melbourne's finest remixes onna itunes:
https://itunes.apple.com/au/album/spaces-places-melbournes-finest/id525880348
-----------------------------------------------------------------------------------------------------------------------------------
So who's up for cucumber sandwiches, a glass of Pimms and a spot of cricket?? You? I thought so!! (OK, cricket could become a bit dangerous...) Catch us on Saturday 1st Dec at BlueBar, Chapel St, Melbourne, for the Summer Showdown: Hip Hop vs Reggae: OZ vs UK: Battle of the Hashes!
INFO:
"The Hashes is a DJ Battle series played between England and Australia since 1882. It is one of the most celebrated rivalries in the international music scene. With Reggae being a summer sport, and the venues being in opposite hemispheres, the break between series alternates between 18 and 30 months. A match of "The Hashes" comprises of five hours, two turntables and one mixer under the regular rules for DJ Battles. If a series is drawn then the country already holding the Hashes retains them…"
BlueBar330 Presents… The Summer Showdown!
The first day of summer brings many things: tremendous weather, outdoor festivals, abundance of ripe watermelon and the arrival of Reggae season. To celebrate, Chapel Streets Mecca of Hip Hop presents a spectacular night of bass heavy, booty shakin' dub-wise party music featuring two of the mash-up scenes freshest talents, BlueBar resident Tom Showtime and special international guest DJ Maars (UK).
It's Australia vs UK and Hip Hop vs Reggae in an all night battle of the turntables, judged only by the amount of hands in the air and vibrations from the dance floor, the stage has been set for the ultimate 'Battle of the Hashes'.
https://www.facebook.com/events/472888476086463
/
See ya at the front!