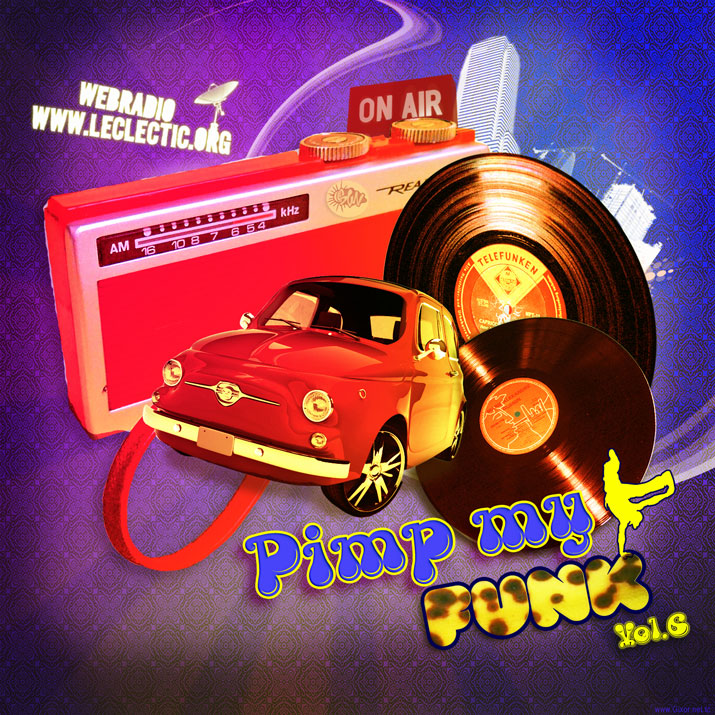 Pimp my Funk Vol.6 Podcast
Hi everyone!
As promised, here is the podcast of volume six of your show PIMP MY FUNK recorded on Wednesday, September 26 on Leclectic webradio.
Program, more than an hour and a half ghetto funk, hip hop, nu skool breakbeat, and other mashup bootlegs mixed by Dj Indi-K (
leclectic.org
)
Salut tout le monde !
Comme promis, voici le podcast du volume six de votre émission PIMP MY FUNK enregistré le mercredi 26 septembre sur Leclectic webradio.
Au programme, plus d'une heure et demi de ghetto funk, de hip hop, de breakbeat nu skool, de mashup et autres bootlegs mixée par Dj Indi-K (
leclectic.org
)
PLAYLIST :
01 - Leclectic webradio intro
02 - Opiuo - Wiggle Sticks (TwoBeatJunkeez vs Krafty Kuts Ringside Demolition)
03 - Groove Motion vs De La Soul - Sat a dub (GM's Re-edit)
04 - Morlack - Bogaaloo
05 - Nas feat Dougie Fresh & Ludacris - Virgo (Qdup Foundation Re Rub)
06 - Jay-Z vs Odjbox - The Only Roc Boys (SkinnyB Mash)
07 - J-Sound - Shake Ya Funkin'Ass
08 - Stephane Deschezeaux - Standing Room
09 - Tape Five - Bad Boy Good Man (Kotch Remix)
10 - Coops - Fool Around
11 - MF Rex - U Gots 2 b Nasty (Automatic Reaction DJ's)
12 - Public Enemy - Harder Than You Think (Featurecast Remix)
13 - Parker - Western Soul (2012 VIP)
14 - Fajita Funk - It's Just King
15 - Funkonami1 - La Caza
16 - Common Sense - Resurrection (Cheapshot Remix)
17 - Basement Freaks - Cash Money (feat Georges Perin - Stickybuds remix)
18 - Etta James - You Can Leave Your Hat
19 - Skeewiff - Hey Dj
20 - Profit (ft. David Boomah) - Push Back (Nick Thayer Dub Mix)
21 - The Temptations - Papa Was a Rolling Stone (Dirty Dubster Remix)
22 - Wood'n'Soo - I Want To Get High
23 - Toots and The Maytals - 54-46 (KrossBow Remix)
24 - Featurecast - Ego Tripping (feat. Farina Miss) (WBBL Remix)
25 - Def Tonez - Can I Get One Of Those (Def Tonez Blend)
26 - Timothy Wisdom - Welcome to the Wumble
27 - Phunk'ill - Shut Em Down
28 - Angry Buda - I Funk My Bitch Banged Up Mix
29 - Sammy Senior- Break it down
30 - ACDC - Highway to Hell (FunkMoguls Re-fix)
31 - Birdy Nam Nam & Skrillex - Goin' In (Featurecast Funked Up Edit)
32 - The Black Seeds vs Inspectah Deck - Fire (Defunk Remix)
You can also find the old radio programs on the site of L'Eclectic here :
Pimp my Funk Vol.1 :
http://www.leclectic.org/download/PODCASTS/IndiK_-_Pimp_My_Funk_Vol.1.mp3
Pimp my Funk Vol.2 :
http://www.leclectic.org/download/PODCASTS/Pimp%20my%20Funk%20Vol.2%20Podcast.mp3
Pimp my Funk Vol.3 :
http://www.leclectic.org/download/PODCASTS/Pimp_My_Funk_Vol.3_Podcast.mp3
Pimp my Funk Vol.4 :
http://www.leclectic.org/download/PODCASTS/Pimp_My_Funk_Vol4_Podcast.mp3
ENJOY